We are shifting into the second half of the year already with more adventures and, as usual, our vibrant community keeps the conversations and ideas flowing.
So read on for a collection of adventures, some strategies on sparking your imagination and some links for your coffee reading time.
Enjoy.
REIMAGINING THE WORKPLACE EXPERIENCE IN THE UNIVERSITY CONTEXT
Space Lab: the future of Melbourne School of Engineering (MSE) workplace
Six Ideas is working in partnership with the MSE '2025' Project Team and architects HASSELL on the MSE Space Lab - a 1,000 sq.m. pilot work environment that provides a range of shared work settings for individual and collaborative work. The pilot is being tested by various MSE academic and professional staff groups over the course of the year in 3 cohorts comprising about 50 participants in each cohort. The insights from this process will help drive the workplace design for the expanding MSE campuses.
How can we improve interactions between students and staff?
In late 2017, we commenced a study exploring "the experience of staff and student interactions", also for MSE. To help gather insight we launched an open digital platform where students and staff shared their experiences and ideas for the future, followed by a series of focus groups where students and academic staff imagined new experiences together.
What emerged is a range of physical and virtual interaction touchpoints to inform the design of both physical and digital space and interactions for the future campus.

How will a shift to agile create new spaces and new thinking about work?
Six Ideas are also working with Monash University - External Relations, Development and Alumni Group (ERDA) to rethink the design of their workplace.
The strategy aims to co-locate teams together and create an inspiring place to work, with an Agile environment being explored. The five ERDA groups are diverse in nature and the workplace must support each to work optimally as well as encourage a more collaborative way to doing business.
Engagement with the teams have resulted in imagining new places for brainstorming, building relationships, thinking and visualising information.
CHANGING CLIENT ENGAGEMENT INTO THE FUTURE

Pitcher Partners is a highly successful mid-tier accounting, auditing and business advisory firm with an enviable reputation for client service There firm's clients were very much front of mind as it contemplated a move to new digs.
Six Ideas has been working with the firm since January 2017. Initially, we were asked to help explore options around their upcoming needs which then transitioned to ultimately developing a full-blown workplace strategy that aligned with the firm's future plans. We love working with organisations on this type of thinking – and our approach of people and business first, space later really resonated with them.
Its maybe not surprising that we also found we shared a lot of common ground with them. The same commitment to clients, desire to do great work and a view that growth is an outcome not a goal. We felt very much at home on the assignment.
The workplace strategy is done and the design is now in full swing. Pitcher Partners believe that if you are going to take client relations to the next level, it can't be just about the next business transaction. Client engagement has been incorporated into the physical layout, with clients able to use space designed for them if they are between commitments in the city – whether they are scheduled to see Pitcher Partners on that day or not.
Interest is high and the firm is on track to create a wonderful new environment – one specifically designed to meet the needs of its people and offer new ways of working with its highly valued clients.
WHAT'S ELSE IS COOKING?
Here are a few adventures currently underway....
Addressing the emerging challenges and opportunities for science organisations through a workplace vision for the Institute of Environmental Science and Research (ESR) in Wellington, New Zealand with partners Warren & Mahoney and Labworks.
Shaping a new workplace for a financial services organisation in Auckland, again with our kiwi friends, Warren and Mahoney, helping to develop a working environment that is responsive to the evolving future of banking and financial services.
Six Ideas has been appointed by the University of Melbourne as Teaching and Learning Advisor. We will be assisting with the development of strategies for learning and teaching, space, technology and operations for a proposed new precinct that will provide a Hub for First Year students enrolled in STEMM undergraduate courses. Comprising facilities for both structured and informal learning, the new Hub will be an important addition to the network of facilities that support the students enrolled in STEMM undergraduate courses.
Helping change behaviours and shift mindsets of media giant Sky and and its partners in removing single-use plastic from operations across all corporate and sporting events. The Six Ideas UK team is now known as the 'Sky Ocean Rescue Ninjas' and are supporting business transformation across TV and film production, supply chain, Sky partners and sporting events, starting with the English Premier League and Tour de France.
What sparks your imagination?
Recently, this question went out to our community and elicited a range of responses summarised below. While there was some similarities there was a curious cross section of topics such as the future, discovery, play and people.
The future narratives of science fiction are filled with big creative visions and quirky details that captivate and stimulate a surprising cross-diversity of community members. Nature also held a special place in our community, whether it is wide landscapes, the movement and energy of the sea or the starry vastness of night, that ancient connection still providing fuel for our contemporary thoughts.
Music and the arts gave others a regular avenue to inspiration. Interestingly, it wasn't just in the 'raising of the curtain' and experiencing the performance, for others its peeking 'behind the curtain' and unpacking the creative process.
The concept of 'play' resonated most with one member, commenting that while many consider it frivolous, he saw games as a way to occupy his brain in a diverse way, a sentiment then echoed by fellow gamers among the community.
For others, their imagination is fired by direct human connection. From talking with people we don't know well or exploring the curiosity of others, these exchanges often lead to uncovering tacit territories of thought.
Looking back, the majority of these responses relate to engaging the brain with input different to the daily routine. However, it was also instructive to hear that boredom too can prove to be an effective stimulus, that by not having anything specific to engage with, we can also benefit from 'the gears' in free spin mode.
Does any of this relate back to the workplace? None of the responses was specifically about work but perhaps speaks to the benefit of a variety of experiences to keep the thinking fresh. Does designing a flexible routine and/or environment at work spark the imagination and unlock the creative thinking to embrace Einstein's "all there ever will be" in both our lives and work?
What about you? What sparks your imagination? We'd love to know. Head over to our Slack community and continue this and other conversations.
Join our global community and share with us!
Conventional wisdom: change management requires strong hierarchical leadership. Yet, a hierarchy is not good for efficient diffusion of ideas. Try subverting the structure with informal backchannels to get things done: This is rewiring for change.
Report finds: nearly a quarter of employers not providing basic tech to enable digital & flexible working. In the workplace, people are often faced with inadequate equipment or slow, unreliable wifi – both of which can act as a barrier rather than an enabler."
Have you ever been in a workplace where it's so loud you can't even hear yourself think? It's a growing issue as more businesses embrace open plan working environments. Here are 5 ways to reduce workplace noise.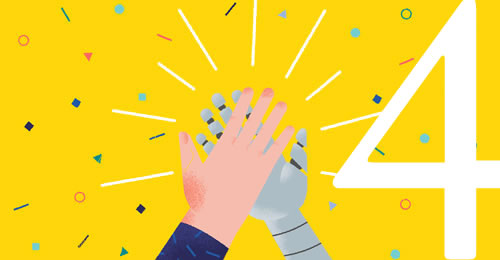 "Companies that invest in employees' technological, cultural, and physical work environments have more than four times the average profit and more than two times the average revenue compared to companies that don't." What do today's trends say about the future of work?
Do you sometimes have your most creative ideas while folding laundry or doing nothing in particular? When your body goes on autopilot, your brain gets busy forming new neural connections that connect ideas and solve problems. Learn to love being bored with this TED talk.
Do you believe in impossible ideas? Then we should have some tea!
Enjoy chatting with an interesting diverse bunch of people? Or just curious to discover new things? Here's a small sample of channels available to discover in our Slack community:
#blockchain
#co-working
#educatingthefuture
#futurecities
#placemaking
#transformation
#workplaces
As a member you get to create and curate your own channels!
Come join our growing global community, we'd like to hear from you.
Have a wonderful day,
The Six Ideas Team